About Us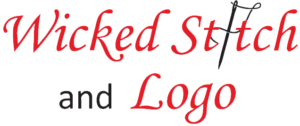 Wicked Stitch and Logo was formed in 2012 out of frustration and costly nickel and diming fees that drove up the price and kept me from purchasing one to two embroidered items at a time. Even after finding a shop to do the work, more frustration set in while waiting for returned phone calls, artwork consulting and finished projects, which in some cases took weeks. Just a simple hat with a company logo on it…how hard could that be? As it turns out, it's not hard at all.
After many months of research, phone calls and trade shows my wife and I decided to take it to the next level. Through training, networking and countless hours of sample stitching we put the wheels of our shop in motion. Since that first day, we have continued to grow along with providing excellent customer service to our clients. Whether it's one or two dozen items, our per-piece cost will never skyrocket because you only want one. We now provide a few others specialties to add to your apparel decorating needs. (Screen print and Rhinestone bling)
Don't let the perceived costs of embroidery stop you from achieving that professional look. Commit your brand or company logo to shirts, bags & hats at affordable prices. Give us call or contact us by email. We will be happy to help without all the nickel and diming.